Description
Powder Coating Booth
---
The unique features of this powder coating booth is its, well designed modular & elegant recovery system. The powder recovery in the booth ensures pollution free environment and also reduces the coating cost by effective utilization of over sprayed powder. Its versatile design with smooth interior surface helps the air to sweep the booth walls thereby preventing any powder accumulation on them. The uniform velocity and smooth airflow pattern enables the charged powder from spray gun to surround the objects uniformly. NSW has designed a range of powder coating booths with single & multi cyclone recovery units with an option of quick colour change system. Type and the size of the booths are determined by the article size and the production volume. Manual (stand alone) and on-line booths for automatic operations can be supplied as per your requirement.
Following recovery systems can be incorporated with the booth:-
Single cyclone
Multi cyclone
Cartridge recovery system (up to 99.9% efficiency) Combination of cyclone and cartridge recovery system
| | | |
| --- | --- | --- |
| | | |
| Cartridge Type Efficiency-99.9% | Multi Cyclone | Single Cyclone – Low cost |
Roll-in & Roll-Out Booth
---
These booths are suggested where the production volumes are high, the no of colours are more and there is a requirement of quick colour change on the on-line booths. The system comprises of minimum two (2) sets of on line booths and can have n number of booths depending upon the no. of coats required. Each booth, which is mounted on a set of rails, can be moved/ rolled out for cleaning purpose and then can be rolled back on line for the coating operation.
 

Line diagram for roll in & roll out
---
 Powder Coating Booth
for Hospital Beds & Panels
Powder Coating Booth
for Automobile Parts
 
Powder Coating Plant
for Automotive Parts

Automatic Powder Coating Plant

 
 

Belt type Powder Coating Plant



Electrostatic Powder Coating Gun
NSW can supply manual and automatic powder gun with/ without reciprocator. These guns have well controlled static charge resulting in very good transfer efficiency of powder to the product. With a large variety of guns, nozzle sizes and types of patterns, NSW is able to cater to every industry for its spray powder coating needs.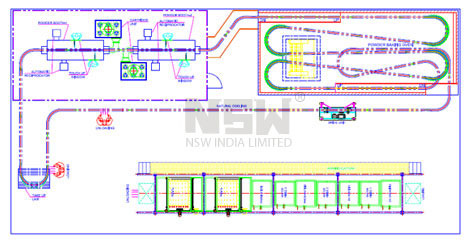 Line diagram for Over-head Powder Coating Plant with Dip Pre-treatment Plant